Fort Collins Commercial Management
Let Us Manage Your Commercial Property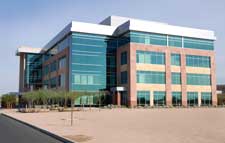 Welcome to the human face of property management! First and foremost, our team of top-tier property managers at Evernest Property Management Services focuses on building lasting relationships with clients through quality customer service and bringing a personal touch. Our real estate services allow us to treat your properties just like they are our own, making us one of the best commercial management companies in the Fort Collins area!
Evernest Property Management Services is a local property management company that takes care of the management for a diverse group of commercial properties, which range in size from small, converted business spaces to large shopping centers. Though we also offer residential property management, owning a commercial space and knowing what to anticipate from your tenants can be a stressful and unknown world.
Each time a new client rents out your space, you open a new set of laws and regulations, licensing, and whatever other items they might need to operate. What sets us apart from other Fort Collins property management companies is our amazing team. Our experienced and dedicated team of top-notch property managers anticipate client needs rather than get lost working to undo what has happened in the space; trusting us with your property is a good move both financially and mentally.
You can rely on our premier property management services in Northern Colorado and Fort Collins to take care of your rental property with the same care and attention that you do. We are Evernest, doing everything we can to make sure your needs and your clients' needs are met!
Look at what a professional real estate commercial and residential property management company can do for you:
Management
Tenant login portal
Owner login portal
Property inspections
Posting legal notices
Move-in/out inspections
24/7 emergency response
Online maintenance request
Access to our in-house maintenance team
Vendor services & contract administration
CAM and operating expense reconciliation
Financials
NO hidden fees
Rent collections
Year-end 1099 tax filing
Security deposit reconciliation
Evictions and collections processing
After hours payment drop box at Evernest office
Property owner's website login for viewing reporting
Deduct maintenance, utilities, HOA, etc. from rental proceeds
Online payment options via ACH, Credit Card, or Debit Card
Direct deposit property owner proceeds around 10th of each month
Inquire About Our Services